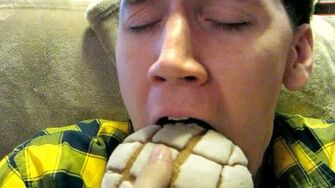 Previous Vlog (Day 1878) | Next Vlog (Day 1880)
Locations
Edit
Stephen and Mal's apartment
A hotel
Carrabba's Italian Grill
Mal surprises Stephen with some melon bread, and then they both head out to Wilmington for the weekend. After dinner at Carrabba's, the two of them get back to the hotel room, get on the bed... and have a Pokémon battle!
Stephen: "Man, there's only one thing I want to do when I get back to that room. I'll put you on the bed... then I'm gonna get on the bed... then we're gonna whip 'em out... Our 3DSs. And we're gonna play us some Pokémon!"
Stephen and Mal's first Pokemon battle can be found here.
Ad blocker interference detected!
Wikia is a free-to-use site that makes money from advertising. We have a modified experience for viewers using ad blockers

Wikia is not accessible if you've made further modifications. Remove the custom ad blocker rule(s) and the page will load as expected.