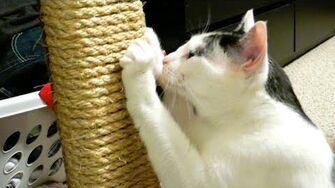 Previous Vlog (Day 2323) | Next Vlog (Day 2325)
Locations
Edit
Stephen and Mal's apartment
The Home Depot
Stephen and Mal decide to replace the sisal rope on their cat tree, since it's pretty much all scratched out. After some maintenance, it's a success, even if the rope doesn't stretch all the way up the pole. The cats have a brand-new scratching pole!
Ad blocker interference detected!
Wikia is a free-to-use site that makes money from advertising. We have a modified experience for viewers using ad blockers

Wikia is not accessible if you've made further modifications. Remove the custom ad blocker rule(s) and the page will load as expected.