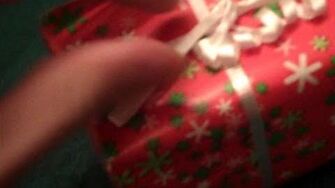 Previous Vlog (Day 376) | Next Vlog (Day 378)
Locations
Edit
The post office
Stephen's car
Justin's workshop
Stephen's parents' house
On the way to drop off The Nutcracker for Justin, Stephen picks up some mail from fans.
First up, Tristan (daracoz619) sends in the final Magic card to go into the card frame, as well as some Y Juz.
Next, Lorin (TacticsElf) sends a signed card. Stephen notes that Lorin has recently started a daily vlog, and encourages the audience to check out his channel.
Finally, Chelsea (tiramisuki) sends a package with a letter and some drawings. She also gives Stephen a salamander Christmas ornament as a reference to Ninten Speaks.
Stephen thanks all the viewers for continuing to watch and support the vlog and encourages them to keep engaging with him.
Ad blocker interference detected!
Wikia is a free-to-use site that makes money from advertising. We have a modified experience for viewers using ad blockers

Wikia is not accessible if you've made further modifications. Remove the custom ad blocker rule(s) and the page will load as expected.