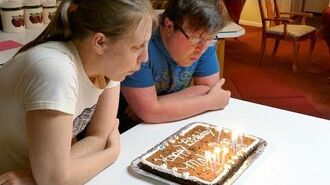 Previous Vlog (Day 2689) | Next Vlog (Day 2691)
Locations
Edit
Stephen and Mallory's house
Stephen's parents' house
It's Mallory's birthday, and she turned 29. After an attempt to sing a birthday song to Mallory results in only partial success, they eat some Bojangles'. Apparently, Bojangles' messes up portion sizes in orders all the time.
On another note, Stephen shows that they put some Earthbound prints of art done by Melissa King, as well as Shadow of the Colossus poster, into the frames they got. Mallory then feeds the kitties some special food to treat them on her birthday.
After getting some work done, they head over to Stephen's parents' house to celebrate Mallory's and Dan's birthdays together with Lindsey and his parents. Debra makes a delicious dinner, and then Mal and Dan share a cake to celebrate their birthdays. Despite some trouble when lighting up the candles, they eventually manage to light them all up, at which point Stephen points out they "both aged" successfully. Both Stephen and Deb feel like their family has become bigger with Dan and Lindsey around, which makes them very happy.
Back at the house, Stephen explains that they sometimes call the cats stink beads, since they are stinky and have "bean toes" on their paws. Anyway, all in all, Mal had a good birthday, and now they're ready for bed. The stress is winding down, and they finally have getting some room to breathe, in terms of work.
Mallory and Dan share a birthday on April 6th. Dan is a year younger than Mallory.
Stephen has done a Let's Play of both Earthbound and Shadow of the Colossus on StephenPlays.
Ad blocker interference detected!
Wikia is a free-to-use site that makes money from advertising. We have a modified experience for viewers using ad blockers

Wikia is not accessible if you've made further modifications. Remove the custom ad blocker rule(s) and the page will load as expected.