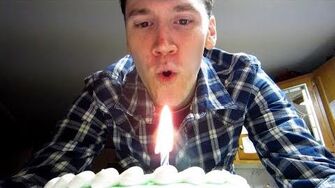 Previous Vlog (Day 1576) | Next Vlog (Day 1578)
Locations
Edit
Stephen and Mal's apartment
Snooky's
Stephen's parents' house
Stephen starts off his day in the sweetest way possible with a special cinnamon roll breakfast prepared by Mal. Later on, Mal begins the process of making cookies with Royal icing. Stephen talks briefly about the GoPro cat video he filmed today.
For Stephen's birthday dinner, he, Mal, and his parents head to Snooky's, where Stephen has a delicious steak. They head back to Stpehen's parents' house where Stephen is treated to a cake and Rocko is treated to a new toy - a helium-filled balloon. Unfortunately Rocko doesn't appreciate it as much, so Stephen and Mal take it home for Sagan and Kepler.
Ad blocker interference detected!
Wikia is a free-to-use site that makes money from advertising. We have a modified experience for viewers using ad blockers

Wikia is not accessible if you've made further modifications. Remove the custom ad blocker rule(s) and the page will load as expected.