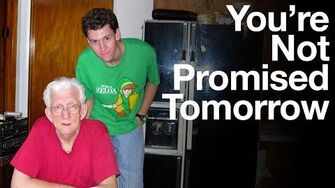 Previous Vlog (Day 2144) | Next Vlog (Day 2146)
Locations
Edit
Stephen and Mal's apartment
Today would have been the 80th birthday of Stephen's maternal grandfather, James, and Stephen gives a bit of a reflection on his grandfather's life and their experiences together.
Jim passed away in May 2009, when Stephen was still in college. Stephen was on Skype with Mal when he got the news, and it hit him quite hard. Stephen had always lived away from his extended family, but felt particularly close to Jim.
Jim always wanted a guitar player in the family since he played guitar, and bought Stephen an electric guitar when he was two years old. That seemed to work - Stephen now plays guitar, and the similarities between Stephen and his grandfather don't end there. Often times, people will remark that the two of them have similar mannerisms, and Stephen's mother will note that the two of them would say the same thing in the same situation.
The one thing that Stephen regrets is the fact that Mal was never able to meet Jim in person. Despite this, he finds solace in the fact that he and his grandfather are so similar. In some way, as long as Stephen is around, Mal has had a chance to meet Jim in some small way.
Stephen invites the viewers to talk about someone they've lost, and how they have been impacted by that loss. He ends by encouraging everyone to do things for loved ones that they feel need to be done, since you never really know how much longer they'll be around.
Ad blocker interference detected!
Wikia is a free-to-use site that makes money from advertising. We have a modified experience for viewers using ad blockers

Wikia is not accessible if you've made further modifications. Remove the custom ad blocker rule(s) and the page will load as expected.