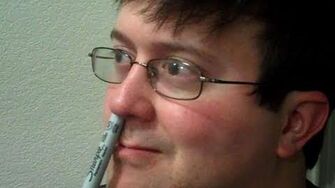 Previous Vlog (Day 425) | Next Vlog (Day 427)
Stephen gets a very brief letter from Owen (blueflare77). It simply says "yo sup." He also sends in a Pokémon card with nearly everything covered up with sharpie.
Later, Stephen takes a quiz to try to name all 151 original Pokémon. He ends up scoring 102, which is an improvement over his score of 92 a few years ago.
Finally, Stephen announces that Mallory will be beginning her student teaching tomorrow, teaching art to high school students.
Ad blocker interference detected!
Wikia is a free-to-use site that makes money from advertising. We have a modified experience for viewers using ad blockers

Wikia is not accessible if you've made further modifications. Remove the custom ad blocker rule(s) and the page will load as expected.