Previous Vlog (Day 1281) | Next Vlog (Day 1283)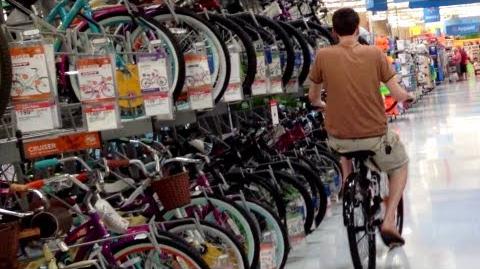 Locations
Edit
Stephen and Mal's apartment
Sears
Wal-Mart
Stephen and Mal give a full sprig of catnip to each of the kittens.  They spend the day shopping for bicycles, which proves to be a problem given Stephen's height.  They seriously consider picking one up, but it won't fit in the car due to the amount of groceries they have.  Back home, the kitties play with a cat toy originally intended for Rocko: a feathered carrot filled with catnip.
"Maybe there's a really stupid-looking bike... and they'll sell it to me for cheap.  They're like, 'This was made for clowns...'  and I'll be like, 'Yes! That's me! I'm a clown!'" ~Stephen
Part of this vlog was filmed using Stephen's phone, since the camera battery died.
Ad blocker interference detected!
Wikia is a free-to-use site that makes money from advertising. We have a modified experience for viewers using ad blockers

Wikia is not accessible if you've made further modifications. Remove the custom ad blocker rule(s) and the page will load as expected.