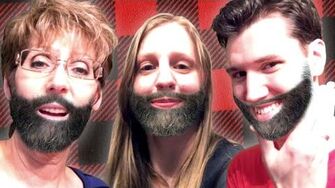 Previous Vlog (Day 2319) | Next Vlog (Day 2321)
Locations
Edit
Stephen and Mal's apartment
Georg House
Stephen has changed the vlog camera: everything will now be filmed with the Panasonic GH4! April Fool's. Sort of. This is the first vlog filmed with a new camera: a Panasonic Lumix ZF100.
Stephen, Mal, and Lindsey head over to the Georg house for an evening of good food and... beards? They all play around with some live image filters using the MSQRD app.
Ad blocker interference detected!
Wikia is a free-to-use site that makes money from advertising. We have a modified experience for viewers using ad blockers

Wikia is not accessible if you've made further modifications. Remove the custom ad blocker rule(s) and the page will load as expected.