Previous Vlog (Day 1991) | Next Vlog (Day 1993)
Locations
Edit
Emile's house
Sugarloaf Mills Mall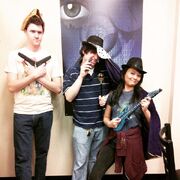 As Stephen so eloquently puts it, today involves "eat food, do thing, shop place." Stephen, Emile, and Masae head out to a mall, where there's a plethora of competitive arcade-ing that happens, including some air hockey and competitive Mario Kart. They also stop by Mystery Room, a real-life room escape facility.
To end the day, Stephen teaches Emile and Masae how to play Magic.
Emile: "Friendship is Magic the Gathering."
Masae: "Let's meet back here tomorrow, shall we?"
Ad blocker interference detected!
Wikia is a free-to-use site that makes money from advertising. We have a modified experience for viewers using ad blockers

Wikia is not accessible if you've made further modifications. Remove the custom ad blocker rule(s) and the page will load as expected.