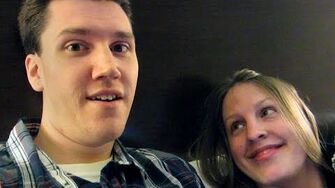 Previous Vlog (Day 1879) | Next Vlog (Day 1881)
Locations
Edit
Stephen's car
A fabric store
Jason's Deli
Blue Asia
A hotel
It's time for a full day in Wilmington, which means that Stephen has to come up with yet another rhyming name after "Wilmington 3: Aquatic Chickadee". Mal picks out some fabric for her a few of her secret sewing projects, and she and Stephen go to a couple game stores, when they run into a few viewers.
After a great all-you-can-eat sushi dinner, they settle down in bed for (what else) a Pokémon battle!
Ad blocker interference detected!
Wikia is a free-to-use site that makes money from advertising. We have a modified experience for viewers using ad blockers

Wikia is not accessible if you've made further modifications. Remove the custom ad blocker rule(s) and the page will load as expected.