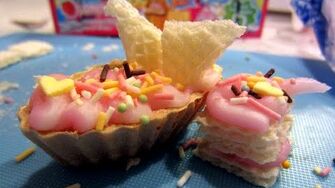 Previous Vlog (Day 2153) | Next Vlog (Day 2155)
Locations
Edit
Stephen and Mal's apartment
In a recent StephenMail video, a viewer named Lana got Stephen and Mal subscriptions to two subscription boxes: Game Box Monthly (which features a number of board games) and Nandemo (which has a lot of different types of Japanese candy). Mal decides to try out a DIY candy-making kit to make some "ice cream cones". Reactions are mixed.
Ad blocker interference detected!
Wikia is a free-to-use site that makes money from advertising. We have a modified experience for viewers using ad blockers

Wikia is not accessible if you've made further modifications. Remove the custom ad blocker rule(s) and the page will load as expected.