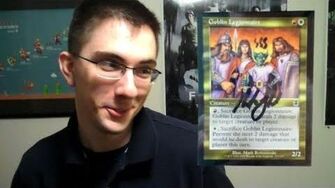 Previous Vlog (Day 465) | Next Vlog (Day 467)
Locations
Edit
Stephen's dorm
Stephen's car
Walmart
Savannah/Hilton Head International Airport
Stephen, Taylor, Dan, and Nick do some grocery shopping and pick up some Girl Scout cookies. In reference to the previous vlog, Stephen is incredibly surprised by the amount of people that type using only their index fingers. He strongly urges people to learn how to type properly, as it would greatly increased their productivity.
They pick up Alex from the airport, and he announces that he has created a ten-second vlog entirely of pictures, which he entitles an "mpvlog".
Back at the apartment, he gives Stephen a Magic card signed by Richard Garfield, the creator of Magic: The Gathering. He also gives Dan a Dead Rising 2 shirt.
Alex: "I could eat a Chinese Jew riding on an elephant halfway back to Sunday."
Stephen: "Tape it or die, Daniel."
Dan: "Use your fingers! That's what she said."
Stephen: "Pull it. A lot."

Dan: "That's what she said!"
Ad blocker interference detected!
Wikia is a free-to-use site that makes money from advertising. We have a modified experience for viewers using ad blockers

Wikia is not accessible if you've made further modifications. Remove the custom ad blocker rule(s) and the page will load as expected.