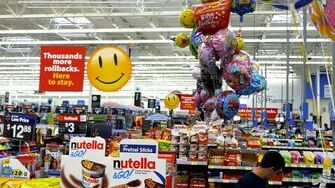 Previous Vlog (Day 2384) | Next Vlog (Day 2386)
Locations
Edit
Walmart
Stephen and Mal's apartment
Now that it's summer, Stephen and Mal are back on completely bizarre sleep schedules. They do some grocery shopping - not a great idea in a tourist town on a weekend - and end up having two dinners. Mal cuts up a "sweet kiss" melon for dessert, which is essentially a sweeter cantaloupe.
Oh, and remember how Stephen sang the chocolate matcha Pocky's praises? Well, it turns out the caramel coffee Pocky Midi is better.
Ad blocker interference detected!
Wikia is a free-to-use site that makes money from advertising. We have a modified experience for viewers using ad blockers

Wikia is not accessible if you've made further modifications. Remove the custom ad blocker rule(s) and the page will load as expected.