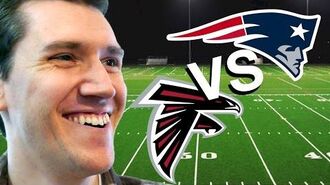 Previous Vlog (Day 2629) | Next Vlog (Day 2631)
Locations
Edit
Stephen and Mal's house
Justin and Laura's house
Stephen's leg pain got worse overnight, and Stephen thinks it might be a pinched nerve. It caused him a lot of difficulty just getting out of bed and moving around.
Stephen then calls up Alex, which ends up with Alex betting on the Falcons and Stephen betting on the Patriots. As planned, they both bet a nice meal for the other couple for when Stephen and Mal visit Alex and Hayley.
Later in the day, Stephen shows off the food Mal made for the Super Bowl party. He then mentions that with some medication and a heating pad, he is able to reduce his leg pain enough to at least walk.
At Justin and Laura's house, Stephen first dismally reports 21-3 for the Falcons at halftime, and then documents his surprised reaction to the Patriots being able to tie with the Falcons at the end of the forth quarter. Finally, Stephen finally shows his shocked and mostly confused reaction to the Patriots winning in the overtime game.
Stephen then calls up Alex to exchange congratulations. After that, he discusses how surprised he was to win and how exciting the game was. He finds it fitting that the time that he wins, it is a game that makes history.
He then ends off the vlog by discussing the work they need to get done before they leave to LA.
"Well, the Patriots have Arthur McDouglas." - Stephen (after Alex said the Falcons can't lose)

"*laughs* Are you sure it's not Douglas McArthur?" - Alex

"Please don't take us to In-N-Out." - Stephen
The Super Bowl mentioned in the vlog day is Super Bowl LI, or Super Bowl 51.
Ad blocker interference detected!
Wikia is a free-to-use site that makes money from advertising. We have a modified experience for viewers using ad blockers

Wikia is not accessible if you've made further modifications. Remove the custom ad blocker rule(s) and the page will load as expected.