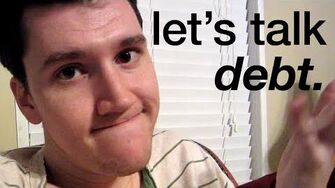 Previous Vlog (Day 1770) | Next Vlog (Day 1772)
Locations
Edit
Rocko seems to be feeling the effects of loneliness since Debra and Steve are on a cruise - he has eaten a lot of food over the past day.
Stephen explains that he and Mal have paid off one of Stephen's most taxing student loans. Part of the reason is that he and Mal are unable to get a decent loan for a house with their current state of debt. This was also the loan with the highest interest rate, so it was important to get it out of the way quickly. They are both still in debt, but this is certainly a step in the right direction.
Stephen implores the viewers to truly do their research and understand their finances before taking out a loan for college.
Ad blocker interference detected!
Wikia is a free-to-use site that makes money from advertising. We have a modified experience for viewers using ad blockers

Wikia is not accessible if you've made further modifications. Remove the custom ad blocker rule(s) and the page will load as expected.