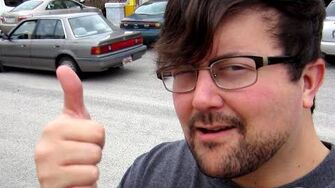 Previous Vlog (Day 1769) | Next Vlog (Day 1771)
Locations
Edit
Parkway Bistro
Stephen's parents' house
Stephen and Mal's apartment
It's time for Dan to leave, and Stephen's parents are on their cruise. Stephen heads over to his parents' house to feed Rocko and inadvertently takes a nap.
For dinner, Stephen and Mal head out to Olive Garden, where they decide to only get a soup and salad since Stephen's stomach has been bothering him for the past few days. Unfortunately, their server doesn't provide the same level of service to Stephen and Mal's table than other tables, probably because she believes that their table will not provide as much in terms of a tip than other tables. However, Stephen empathizes with the server, since he himself was once a server, and he always tips very well when eating out.
Ad blocker interference detected!
Wikia is a free-to-use site that makes money from advertising. We have a modified experience for viewers using ad blockers

Wikia is not accessible if you've made further modifications. Remove the custom ad blocker rule(s) and the page will load as expected.