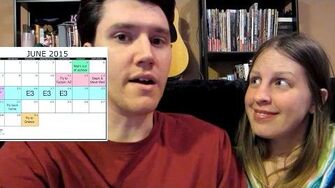 Previous Vlog (Day 2009) | Next Vlog (Day 2011)
Locations
Edit
Stephen and Mal's apartment
Stephen and Mal take today to go through their entire travel schedule for the summer:
11: Fly to Tuscon, AZ
15-21: Stay in LA, visit E3 (16-18)
22: Fly back home
31: Fly to Greece
17-20: Camp Fangamer in Tuscon, AZ
30-31: Drive to Muncie, IN
7-8: Drive back home
9: Weird Al Concert in Charleston, SC
27-31: PAX Prime
Somehow, this summer will be even crazier than last summer. Stephen asks the viewers to wish him luck on his crazy plans.
Ad blocker interference detected!
Wikia is a free-to-use site that makes money from advertising. We have a modified experience for viewers using ad blockers

Wikia is not accessible if you've made further modifications. Remove the custom ad blocker rule(s) and the page will load as expected.