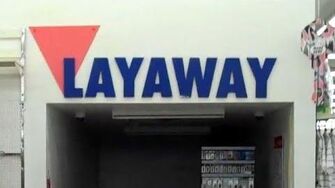 Previous Vlog (Day 122) | Next Vlog (Day 124)
Locations
Edit
Savannah/Hilton Head International Airport
Stephen's car
The dorm at SCAD
Sam's Club
Hollywood Video
Outside of a Big K-Mart
Stephen drops Mallory off at the airport, Stephen takes a nap, the gang goes to Sam's, Stephen tries out a new Facebook feature, and Alex improvises some barbeque chicken pizza for dinner.
Everybody watches some Dragon Ball Z, and then goes out for a bit to visit a closing Hollywood Video, and K-Mart so that Dan can buy a copy of Just Cause 2.
Back at the dorm, Dan plays his game a bit, and Stephen talks about his "Self-Portrait" project (a video about himself) that he's going to work on soon.
The title: Alex was screwing around with the camera, filming upside while Stephen was driving through the parking lot of Sam's Club.
"It's a good thing they 9/11-proofed all their buildings with that armor plating" -Alex, in response to Dan crashing a plane into a building (which was unscathed in the explosion) in Just Cause 2.
Ad blocker interference detected!
Wikia is a free-to-use site that makes money from advertising. We have a modified experience for viewers using ad blockers

Wikia is not accessible if you've made further modifications. Remove the custom ad blocker rule(s) and the page will load as expected.