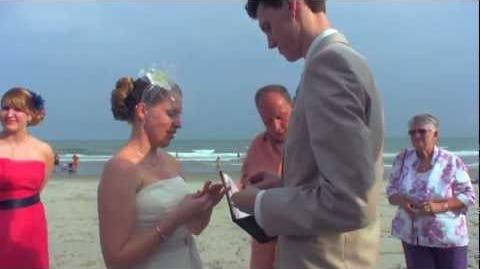 Previous Vlog (Day 619) | Next Vlog (Day 621)
Stephen's Grandmother & Her Friends
Kristen Jordan (Photographer)
Church Minister
Party & Wedding Guests
Locations
Edit
Stephen's Parents' House
Austin's Car
Hotel Room - Caribbean Resort and Villas
The Beach - Caribbean Resort and Villas - Site of Wedding
The Wedding Party - Caribbean Resort and Villas
After three-and-a-half years of dating and being miles and miles apart from each other, and one year since the engagement, today marks the official wedding of Stephen Georg and Mallory Weir. In one of the most tearful and emotional moments in the history of the Vlog, here is Stephen and Mal's wedding from start to end, from the last-minute preparations to the party.
Justin and Dan filmed the wedding and the party.
Photography of the wedding was courtesy of Kristen Jordan. All of the photos she took are found in an album on Stephen's flickr.
Stephen, at the party, dedicated this wedding to his grandfather who passed away years ago, when Stephen & Mal are preparing to cut their wedding cake, and, in one of the most tearful moments, wished he could have been here to witness this. He also told the story of the wedding cake slicer used, which had 53-year-old icing from Debra and Steve's wedding.
Ad blocker interference detected!
Wikia is a free-to-use site that makes money from advertising. We have a modified experience for viewers using ad blockers

Wikia is not accessible if you've made further modifications. Remove the custom ad blocker rule(s) and the page will load as expected.