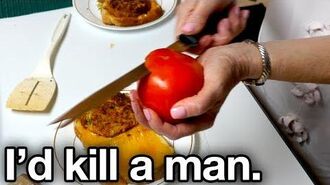 Previous Vlog (Day 2717) | Next Vlog (Day 2719)
Locations
Edit
Stephen and Mallory's house
Stephen's parents' house
Mallory's plants are coming along nicely, and Stephen and Mallory are excited to start eating homegrown food.
Later in the day, they head over to Deb and Steve's house with Dan and Lindsey to eat some crab cake sandwiches. Dan gets his sandwich first, because everyone else is in the "tomato line" (since Dan only likes tomatoes a certain way). The sandwiches are good, and it turns out Debra got the idea from a restaurant in the area literally called The Grilled Cheese & Crab Cake Co. They then eat Klondike Heath bars for dessert.
Back at the house, Stephen and Mallory are making soft-boiled eggs before settling down to watch an episode of Seinfeld. They're really close to the end of Seinfeld, which is exciting.
"Stephen, what would you do for a Klondike bar?" - Dan

"Well Dan, I'd... I'd kill a man." - Stephen

"Just a few seconds left 'till the chicky chicks!" - Stephen (referring to the eggs being soft-boiled)
Ad blocker interference detected!
Wikia is a free-to-use site that makes money from advertising. We have a modified experience for viewers using ad blockers

Wikia is not accessible if you've made further modifications. Remove the custom ad blocker rule(s) and the page will load as expected.