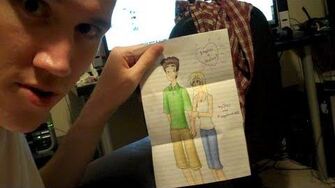 Previous Vlog (Day 694) | Next Vlog (Day 696)
Locations
Edit
Stephen & Mal's Apartment
Stephen's car
After reading the comments on Day 693, Stephen is very surprised by the number of people who want him to destroy his faulty Flip.
On the way to the Kia dealership to deal with Mal's car problems, Stephen thanks tastytbonesteak for his tips on their car troubles.
After a dinner of seared tuna, Stephen talks about Spirit Day, a day of support and raising awareness for LGBT youth. He wore purple to participate last year at SCAD, but figured that this year wasn't the best time to wear a purple shirt, since he wouldn't be going out much. He also doesn't own anything purple now.
The day ends with a letter from Jess (PuppyLuver256), who includes some cards and a drawing.
Ad blocker interference detected!
Wikia is a free-to-use site that makes money from advertising. We have a modified experience for viewers using ad blockers

Wikia is not accessible if you've made further modifications. Remove the custom ad blocker rule(s) and the page will load as expected.