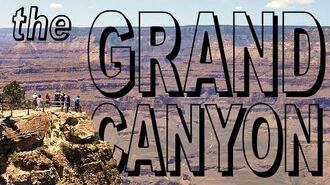 Previous Vlog (Day 2737) | Next Vlog (Day 2739)
Locations
Edit
Hotel restaurant (Williams, AZ)
Open performance area at the hotel (Williams, AZ)
Train car
Grand Canyon National Park
Hotel room in Grand Canyon Railway and Hotel (Williams, AZ)
Historic Brewing Co. (Williams, AZ)
Stephen and Mallory have some breakfast at the hotel cafe, before getting on a (pretty old) train with Mark and Rhonda to go see the Grand Canyon. The train ride is accompanied by a view of the Arizona desert landscape and a cowboy performing On The Road Again by Willie Nelson.
Some time later, Stephen and Mallory gotten off the train and made it to the exact spot where they were 'denied entry' to the Grand Canyon in 2014. And then, finally, after three years, they get to see the Grand Canyon and are amazed by how immense it is.
After they've had their fill of the place, they get back on the train to return to the hotel, only to get 'raided' by 'cowboys'. Mark threatens to do "wax on, wax off" to one of them to 'protect' Rhonda from the cowboys.
They finish the day off with dinner at Historic Brewing Co. and really enjoy their food.
Stephen and Mallory have traveled with Mark and Rhonda before and have gone with them to:
Stephen and Mallory have previously been to Arizona to:
Ad blocker interference detected!
Wikia is a free-to-use site that makes money from advertising. We have a modified experience for viewers using ad blockers

Wikia is not accessible if you've made further modifications. Remove the custom ad blocker rule(s) and the page will load as expected.