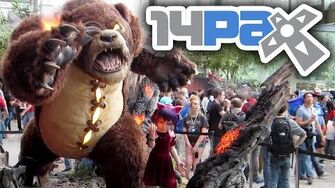 Previous Vlog (Day 1738) | Next Vlog (Day 1740)
Locations
Edit
Seattle, WA

Top Pot
Washington State Convention Center
The Pike Brewing Company
A hotel room
The gang stops by Top Pot to get some "hand-crafted" doughnuts. Afterwards, it's time to head to the convention centre for the official first day of PAX! Aside from lunch, they spend pretty much the entire day at the convention centre playing demos of different games, including the new Super Smash Bros.
Ad blocker interference detected!
Wikia is a free-to-use site that makes money from advertising. We have a modified experience for viewers using ad blockers

Wikia is not accessible if you've made further modifications. Remove the custom ad blocker rule(s) and the page will load as expected.