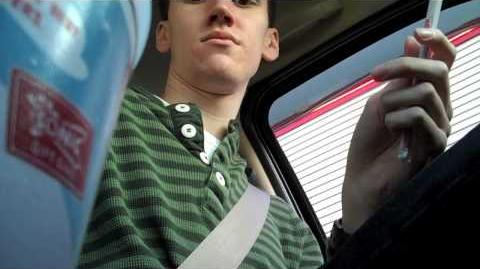 Previous Vlog (Day 21) | Next Vlog (Day 23)
Locations
Edit
Stephen starts the day with a surprise call from his friend Seth five minutes after he wakes up. He decides to take him along to a meal he has at Conway with his high school spanish teacher and a few of her former students.
Afterwards Stephen stops by Justin's work to deliver his edited copy of The Nutcracker play he had recorded. Then he stopped by Sonic where he talked about how not tipping the workers who deliver his food leaves him overwhelming guilt, but he luckily doesn't tip the worker and leaves anyway.
Stephen stops at a Wal-Mart to find a Christmas gift, where Seth pick up a copy of 'The Hangover' on DVD. Stephen helps a friend repair his computer and then goes off to work on filming the Ninten Christmas special. He watched 'The Hangover' that Seth picked up, with Seth, Chris, Corey, and John. Stephen spent the rest of the day editing, and ended the day by finding out that the copy of the Nutcracker he delivered was still slightly broken.
The title of the vlog comes from the fact that Stephen thinks that the day was a very good one.
Stephen "Alright, I just got here and it looks like it is time to fix a computer."
Stephen "We watched a movie and then now we're done."
Ad blocker interference detected!
Wikia is a free-to-use site that makes money from advertising. We have a modified experience for viewers using ad blockers

Wikia is not accessible if you've made further modifications. Remove the custom ad blocker rule(s) and the page will load as expected.