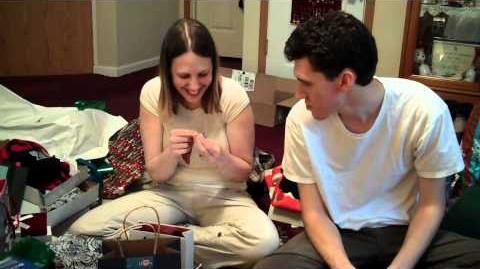 Previous Vlog (Day 760) | Next Vlog (Day 762)
Locations
Edit
Stephen and his family celebrate Christmas. Mallory gets boots, sweaters, Bananagrams, a dress, a hand blender, some shirts, a belt, leggings, an iron, socks, oils, perfumes, a necklace, a 20-sided die, and a Paula keychain; Stephen gets many new shirts, Steve Jobs by Walter Isaacson, underwear, a flashlight, a Chick-Fil-A calendar, pants, a PlayStation 3, and a guitar hanger; Stephen and Mallory get bedding sheets, a wedding album, a weight scale, candy canes, a locket, and pillows; Steve gets pajamas, cologne, and a card; Debra gets perfume and a card; and Steve and Debra get a quilt.
Then they eat peas and mushrooms, green bean casserole, rolls, sweet potato pie, turkey, corn, mashed potatoes, stuffing, gravy, cottage cheese, broccoli, butter, and jam, and play Bananagrams.
Stephen: "You can also use it as a blunt object."

Mallory: "Better watch out."
Debra: (to Steve): "Merry Christmas."

Steve: (reading Debra's card): "I love you, thank you for being my master-partner! Sorry."
Ad blocker interference detected!
Wikia is a free-to-use site that makes money from advertising. We have a modified experience for viewers using ad blockers

Wikia is not accessible if you've made further modifications. Remove the custom ad blocker rule(s) and the page will load as expected.