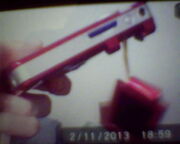 Over the past 2 weeks, I have had problems with technology not of the computer. On Friday 2 weeks ago, my camera broke (see picture). Just today, I found out that my copy of Pokemon Emerald's internal battery has run dry. I know that this will not affect my save file, but now I cannot get anything I can recieve through time based events (i.e lotto tickets).
Ad blocker interference detected!
Wikia is a free-to-use site that makes money from advertising. We have a modified experience for viewers using ad blockers

Wikia is not accessible if you've made further modifications. Remove the custom ad blocker rule(s) and the page will load as expected.