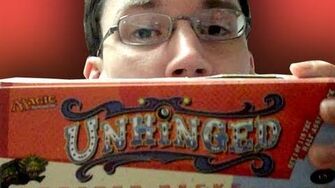 Previous Vlog (Day 372) | Next Vlog (Day 374)
Locations
Edit
Stephen's Parents' House
Stephen's Parents' Car
Remember the other day when Stephen discovered an unpleasant ulcer? Well, he's off to the dentist to get it examined! Also, the completion of Donkey Kong Country Returns, and a package from Jeremy that includes eleven Unhinged packs inside an Unhinged box.
Jeremy has sent something to Stephen before during Day 135 of the vlog.
Stephen mentions that the reason he wore glasses was because the new contacts he got on Monday were not from the same brand he used for seven years, and therefore has to go back to fix that.
Stephen: "Cause, as I said before....Dilation sucks."
Ad blocker interference detected!
Wikia is a free-to-use site that makes money from advertising. We have a modified experience for viewers using ad blockers

Wikia is not accessible if you've made further modifications. Remove the custom ad blocker rule(s) and the page will load as expected.