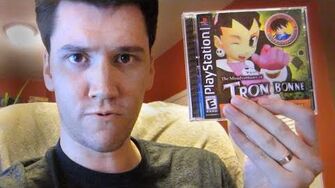 Previous Vlog (Day 1993) | Next Vlog (Day 1995)
Locations
Edit
Stephen and Mal's apartment
Stephen recently picked up Castlevania: Symphony of the Night at Player's Choice for First20 to promote a Kickstarter for Bloodstained, an upcoming Metroidvania game developed by IGA, the assistant director for Symphony of the Night. While at the store, Stephen came across a full boxed copy of Tron Bonne, an extremely rare spin-off of Mega Man.
Ad blocker interference detected!
Wikia is a free-to-use site that makes money from advertising. We have a modified experience for viewers using ad blockers

Wikia is not accessible if you've made further modifications. Remove the custom ad blocker rule(s) and the page will load as expected.