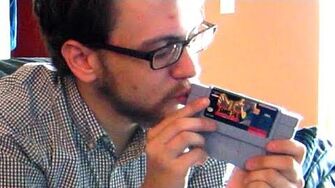 Previous Vlog (Day 1608) | Next Vlog (Day 1610)
Locations
Edit
Sonic
Stephen's parents' house
Stephen and Mal's apartment
Cracker Barrel
Stephen and Mal meet up with Thomas for lunch at Sonic, then head to Stephen's parents' house. Stephen shows off his Shark MX, which allows you to check your email on your Game Boy. He apparently has a bizarre email in his outbox entitled "Love".
Thomas also brings Stephen and Mal a huge box of retro games, including Shaq Fu (N64), which Stephen does a First20 of. Afterwards, they head to Player's Choice where Thomas trades in some games, then have dinner at Cracker Barrel.
Thomas: "You know what I haven't seen in a long time? ...Blood."
Ad blocker interference detected!
Wikia is a free-to-use site that makes money from advertising. We have a modified experience for viewers using ad blockers

Wikia is not accessible if you've made further modifications. Remove the custom ad blocker rule(s) and the page will load as expected.