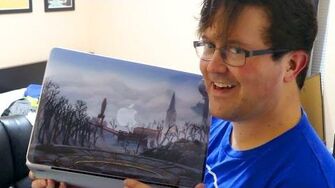 Previous Vlog (Day 2599) | Next Vlog (Day 2601)
Stephen and Mal's House
Dan and Lindsey's apartment
Stephen ate an entire plate of chicken nachos yesterday, and he's feeling the effects of that today.
He and Mal head to Dan and Lindsey's place to set up some bookshelves. Lindsey cooks up some authentic Wisconsin fried cheese curds, as well as some... non-authentic "shrimp curds." Dan does his best impression of a cat by hiding in a box.
Stephen: "I don't like bananas."

Mal: "Yes you do."
Stephen: "Wait, yes I do."
Ad blocker interference detected!
Wikia is a free-to-use site that makes money from advertising. We have a modified experience for viewers using ad blockers

Wikia is not accessible if you've made further modifications. Remove the custom ad blocker rule(s) and the page will load as expected.