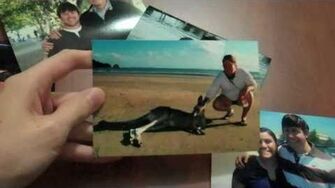 Previous Vlog (Day 319) | Next Vlog (Day 321)
Locations
Edit
Stephen spends some time on the set of his senior film, Phoenix Beyond. He also shows the edited photos for Dan's prank. The set also has a random photograph of a woman with a kangaroo on a beach. Stephen muses that they should do this more often to amuse the photo developers at Wal-Mart, but Alex quickly points out the absurdity of the plan since "they're paid not to judge you".
Ad blocker interference detected!
Wikia is a free-to-use site that makes money from advertising. We have a modified experience for viewers using ad blockers

Wikia is not accessible if you've made further modifications. Remove the custom ad blocker rule(s) and the page will load as expected.