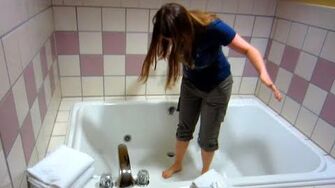 Previous Vlog (Day 1690) | Next Vlog (Day 1692)
Locations
Edit
Stephen's rental car
El Paso, TX
Fort Stockton, TX
San Antonio, TX

A hotel
North Star Mall
Game Over Video Games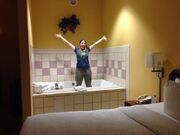 Stephen and Mal are outside Starbucks to access their internet to upload a Meetup Video. They buy some doughnuts then continue on their way to San Antonio via Fort Stockton. Stephen notes that the speed limit is 80 mph, which is good since most of the highways so far have been 75. On another note, Stephen got a text from T-Mobile welcoming him to Mexico.
They stop by for Subway at Fort Stockton, then make their way to San Antonio. When they check into their hotel, they get a free upgrade: a "Spa King" room with a giant Jacuzzi tub in their bedroom. They stop by the Cheesecake Factory for dinner, then visit Game Over Video Games, which happens to be a block away from their hotel. Some of their prices are quite high, but Stephen likes the huge inventory they have. He buys players' guides for Perfect Dark and Billy Hatcher.
The distance from El Paso to San Antonio is 552 miles, taking roughly 7.5 hours to travel. This is the longest leg of the road trip.
Ad blocker interference detected!
Wikia is a free-to-use site that makes money from advertising. We have a modified experience for viewers using ad blockers

Wikia is not accessible if you've made further modifications. Remove the custom ad blocker rule(s) and the page will load as expected.