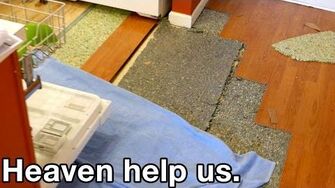 Previous Vlog (Day 2500) | Next Vlog (Day 2502)
Locations
Edit
Stephen and Mal's apartment
A Drive-thru
The repairman for Stephen and Mal's waterlogged floor came in today to replace said floor. The floor finally gets replaced! Somewhat.
Actually there's still a significant portion of the floor that's still torn up. Home Depot gave the guy the wrong floorboards. So he'll have to come back at a later date. This isn't good - the cats have been eating the foam beneath the rotting floorboards.
Fun times, fun times.
Ad blocker interference detected!
Wikia is a free-to-use site that makes money from advertising. We have a modified experience for viewers using ad blockers

Wikia is not accessible if you've made further modifications. Remove the custom ad blocker rule(s) and the page will load as expected.