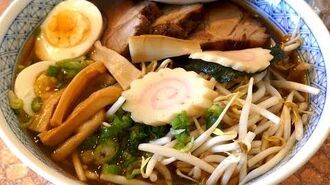 Previous Vlog (Day 2715) | Next Vlog (Day 2717)
Locations
Edit
Sobaya Japanese Bistro
Stephen and Mallory's house
Stephen and Mallory have Japanese food for lunch in town, since they were in the area anyway to pick up a gift for Austin and Nikki's baby shower. It's a diaper trashcan which is aptly captioned, "The stink ends here." Stephen and Mallory discuss how this kind of thing may actually be useful for cat poop.
Anyway, they're back at the house and have recorded some Pikmin 2. Since they're just starting the game, things have been going quite well for them, all things considered (see: their Pikmin LP).
Ad blocker interference detected!
Wikia is a free-to-use site that makes money from advertising. We have a modified experience for viewers using ad blockers

Wikia is not accessible if you've made further modifications. Remove the custom ad blocker rule(s) and the page will load as expected.