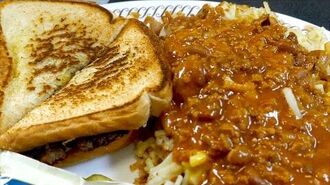 Previous Vlog (Day 2665) | Next Vlog (Day 2667)
Locations
Edit
Stephen's car
Waffle House
Stephen and Mallory have just finished eating food at Waffle House, because it is late and cold so they were craving some comfort food. While they are still in diet mode, Stephen doesn't feel bad about the meal since he has lost 12 pounds in just 5 days.
They take this opportunity to judge how they feel about Waffle House food using the 7-star rating system. Stephen starts by introducing what he always orders as "The Stephen Georg Special", which consists of a sausage, egg and cheese sandwich, and a large hash-brown with chili, cheese and mushrooms. He adds that Mal has also started to order a variation of "The Stephen Georg Special", but gets bacon instead of sausage in her sandwich, and varies her hash-brown.
He then proceeds to rate his meal a 6 out of 7 stars, but if he only ate the sandwich, it would be a 7 out of 7, made of angels (though if they did halves, it would be 6.5 out of 7 stars). Mal wholeheartedly agrees.
Afterwards, he talks about their plan for the rest of the day. Since they slept late, and as a result woke up late, they got started on the day late, and now they have to go back and get more work done, including recording a mail video. This probably means that they will go to bed late, and wake up late the next day, which is just a vicious cycle.
Ad blocker interference detected!
Wikia is a free-to-use site that makes money from advertising. We have a modified experience for viewers using ad blockers

Wikia is not accessible if you've made further modifications. Remove the custom ad blocker rule(s) and the page will load as expected.