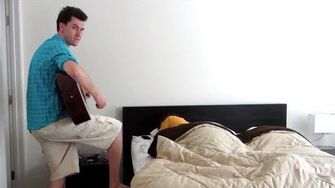 Previous Vlog (Day 1697) | Next Vlog (Day 1699)
Locations
Edit
Jacksonville, FL

Dan's house
European Street Cafe

Stephen's rental car
Kingsland, GA

Game Over! Video Games & More

Cracker Barrel
Stephen and Mal's apartment
Stephen wakes up Dan with a beautiful guitar serenade. They eat some breakfast at European Street Cafe and make the drive back home. On the way, they make a stop at Game Over! Video Games in Kingsland and run into a viewer, Joseph!
While entering Savannah, Stephen and Mal encounter some lightning up close. The heavy rain doesn't let up until they get to South Carolina, so they have to make a stop by Cracker Barrel for dinner before getting home.
...Unfortunately Stephen can't quite relax after saying hello to the cats. He has to edit an episode of Resident Evil 5 before going to bed.
The distance from Jacksonville to Myrtle Beach is 332 miles, taking roughly 5.5 hours to travel.
Ad blocker interference detected!
Wikia is a free-to-use site that makes money from advertising. We have a modified experience for viewers using ad blockers

Wikia is not accessible if you've made further modifications. Remove the custom ad blocker rule(s) and the page will load as expected.