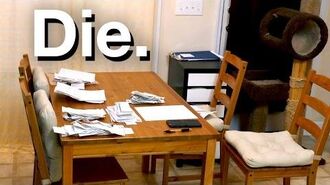 Previous Vlog (Day 2639) | Next Vlog (Day 2641)
Locations
Edit
Stephen works on taxes, only to find that they never labelled their receipts from their Japan trip in 2016 which are in Japanese. He mentions that everything else should be simple since the rest was in English or on QuickBooks. His plan is to finish preparing the taxes by the end of the day.
Stephen and Mal stay up to finish taxes, after having to re-categorize QuickBooks. They are both glad their awful tax time is over.
To end the day, Mal shares that her Homesick candle (Wisconsin) smells really good. Stephen also says he is excited for taxes next year, which should be really really easy.
Ad blocker interference detected!
Wikia is a free-to-use site that makes money from advertising. We have a modified experience for viewers using ad blockers

Wikia is not accessible if you've made further modifications. Remove the custom ad blocker rule(s) and the page will load as expected.