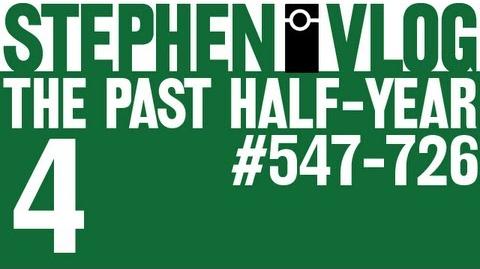 Previous Vlog (Day 725) | Next Vlog (Day 727)
The Past Half-Year 3 | The Past Half-Year 5
James Samuel
Emile (chuggaaconroy)
Locations
Edit
Stephen's Apartment
Stephen's Dorm at SCAD
Stephen's Parent's House
Wisconsin Airport
University of Wisconsin Stout
Dawn's House
The Bridal Event
Mallory's Car
Amazing Joe's Grill
Fairfield Highway
South Carolina Highway
Georgia Highway
Chattanooga Woods
Riverbanks Zoo
Red Robin
Broadway at Beach
Snooky's
Beach
Stephen's Car
McDonalds
Columbia Highway
Walmart
Target
Mal's Classroom
Justin's House
Ballroom C
Stephen's Parent's Car
TGI Fridays
Outside Stephen's Apartment
Battery Park Pier
Jarrett's Car
A collection of every vlog title appearing in videos from days 547 to 726.
Day 730 is the last video for year 2 of StephenVlog, however this video was released four days earlier because Stephen and Mallory will be in Myrtle Beach for Thanksgiving weekend.
This is the second time that a Past Half-Year video is a vlog day. The first time was the Past Half-Year 3, which is day 546.
Ad blocker interference detected!
Wikia is a free-to-use site that makes money from advertising. We have a modified experience for viewers using ad blockers

Wikia is not accessible if you've made further modifications. Remove the custom ad blocker rule(s) and the page will load as expected.