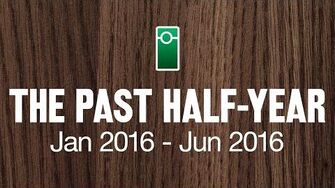 Previous Vlog (Day 2409) | Next Vlog (Day 2411)
In a biannual tradition, Stephen shows the titles from the past six months of the vlog. Witness the launch of MalMakes, the end of Stephen and Mal's Dungeons & Dragons campaign, the Japan trip, and so much more!
This is the last Half-Year video. Following this, Stephen decided to combine Fan Favorites (which were every 500 days) and Half-Year videos into annual Fan Moments videos.
Ad blocker interference detected!
Wikia is a free-to-use site that makes money from advertising. We have a modified experience for viewers using ad blockers

Wikia is not accessible if you've made further modifications. Remove the custom ad blocker rule(s) and the page will load as expected.