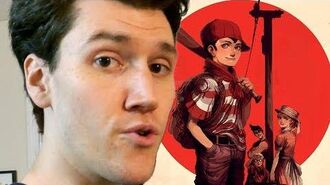 Previous Vlog (Day 2685) | Next Vlog (Day 2687)
Locations
Edit
Stephen and Mallory's house
Stephen and Mal feel like they got hit by a truck, even though they got enough sleep. It's probably because they fixed their sleep schedule super fast just a few days ago.
Anyway, Stephen expects today to be a turning point in terms of work, since he's very close to finishing up some client work. After having to work on this alongside VlogMail videos and Q&As, he's looking forward to going back to focusing on his usual videos.
Some time later, Dan and Lindsey have come over! Lindsey and Mal makes candy sushi from a Popin' Cooking kit, and try to force the candy fish roe on Stephen and Dan. Dan gives it a try after a while, though Stephen just outright refuses. Mallory then shows off the rest of the sushi they made, and Lindsey tries one of them.
Afterwards, Stephen explains why Dan and Lindsey came over: their neighbors were throwing a birthday party which was so loud that Mallory couldn't record her video, so it was better for Mal to use the time she had to hang out with friends. Since then, Mal has been able to get back to work, and is now cooking up korma masala for dinner. On the other hand, Stephen has been organizing their tax stuff.
Stephen also shows that they hung up a MOTHER-themed piece of art called "The Paradise Line" created by Kurkoboltsi, which he got for helping to promote a Kickstarter to have the original MOTHER soundtrack released on vinyl in America. It's pretty cool since not many people have this, and it looks really cool.
Time for dinner, and then bed. (Hopefully they won't end up going to bed at noon instead.)
"Like most things you should insert it into your mouth." - Stephen to Dan, about eating the fish roe

"That's what he... s- sorry." - Dan
"That's what they all say really." - Stephen

"I don't like jelly. I'm actually, I'm actually allergic." - Stephen refusing to try the fish roe

"I'm not interested in your fish semen jelly." - Stephen
Ad blocker interference detected!
Wikia is a free-to-use site that makes money from advertising. We have a modified experience for viewers using ad blockers

Wikia is not accessible if you've made further modifications. Remove the custom ad blocker rule(s) and the page will load as expected.