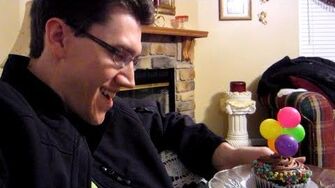 Previous Vlog (Day 1212) | Next Vlog (Day 1214)
Locations
Edit
Stephen and Mal's apartment
Myrtle Beach International Airport
Charlotte Douglas International Airport (NC)
Boston, MA

A train station
Quincy Market
A hotel
Dunkin' Donuts
The New England Holocaust Memorial
A shopping centre
Chipotle
It's time to head out to Boston for PAX East! It's also the first time that Stephen, Alex, Taylor, and Dan have been together since college. Everybody convenes in the city and spends the day wandering around. They also end the day by playing Cards Against Humanity.
"Stephen! Snow!" ~Dan
"You look like an inmate... or a mechanic." ~Stephen
"Durrr, I like Taco Bell because Taco Bell's the best, durrr." ~Dan
Ad blocker interference detected!
Wikia is a free-to-use site that makes money from advertising. We have a modified experience for viewers using ad blockers

Wikia is not accessible if you've made further modifications. Remove the custom ad blocker rule(s) and the page will load as expected.