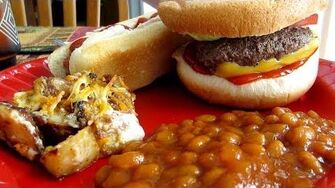 Previous Vlog (Day 1643) | Next Vlog (Day 1645)
Locations
Edit
Stephen's parents' house
Stephen and Mal's apartment
It's time for a Memorial Day cookout at Stephen's parents' house! Unfortunately, their grill has broken down for good - last year, Steve was set on fire by the grill. They do some stovetop cooking instead and finish dinner with a delicious fruit salad. They play a bunch of games, and Stephen once again loses to Steve in Wii Bowling.
In other news, Stephen and Mal got their air conditioning problems fixed today. To end the vlog, Stephen thanks the former and current servicemen who work around the world.
Ad blocker interference detected!
Wikia is a free-to-use site that makes money from advertising. We have a modified experience for viewers using ad blockers

Wikia is not accessible if you've made further modifications. Remove the custom ad blocker rule(s) and the page will load as expected.