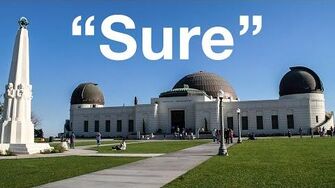 Previous Vlog (Day 2432) | Next Vlog (Day 2434)
Locations
Edit
Kula Revolving Sushi Bar
Griffith Observatory
Guisados
Alex and Hayley's apartment
After a sushi lunch, Stephen and co. head out to Griffith Observatory to check out some cool, nerdy space stuff. Also, Hayley (reluctantly?) accepts Alex's proposal for marriage. Dinner is street tacos, and Stephen ends the day be editing some more Let's Play episodes.
Ad blocker interference detected!
Wikia is a free-to-use site that makes money from advertising. We have a modified experience for viewers using ad blockers

Wikia is not accessible if you've made further modifications. Remove the custom ad blocker rule(s) and the page will load as expected.