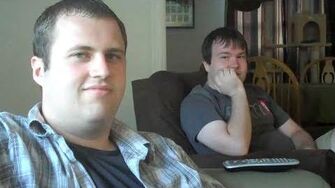 Previous Vlog (Day 564) | Next Vlog (Day 566)
Locations
Edit
Mallory's Car
Dawn's House - Appleton, Wisconsin
Mitsuwa Marketplace - Near Chicago, Illinois
Chaz's House - Muncie, Indiana
Amazing Joe's Grill - Muncie, Indiana
Well, it's finally time. Today marks the beginning of the 3-day trip from Appleton, Wisconsin, to Myrtle Beach, South Carolina. First up on the trip, they're heading to Chaz's house in Muncie, Indiana where they'll spend the night. Along the way, a trip to the Japanese marketplace Mitsuwa near Chicago is on the plans for today, where they'll explore and buy goods, including some melon bread (melon pan according to a sign).
This marked the final appearance of Mallory's dog Triscuit on the Vlog, as he passed away later in the year on November 29th.
From Appleton, Wisconsin to Muncie, Indiana, Stephen & Mal spent $5.70 in 6 toll booths. When they arrived, it was 7:40 PM EST, 6:40 PM CST.
Stephen: "'The Answer Is Yes.' The question was did I finish the burger? I did, and I ate it. It's all gone."
Ad blocker interference detected!
Wikia is a free-to-use site that makes money from advertising. We have a modified experience for viewers using ad blockers

Wikia is not accessible if you've made further modifications. Remove the custom ad blocker rule(s) and the page will load as expected.