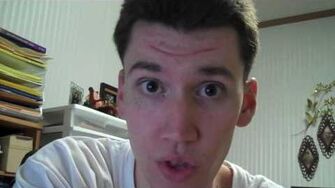 Previous Vlog (Day 224)
|
Next Vlog (Day 227)
Locations
Edit
Stephen's Car
Bojangles
Dueling Grounds
Stephen's Parent's House
The vlog begins with Stephen driving to see Austin at Bojangles. After Bojangles, the three of them go to Dueling Grounds. Even though it was closed, they managed to catch the owner to get the singles they needed. When they got home, Mallory had gotten her bag for her DSLR camera. Stephen discusses that an anklet that had been given to him by Mallory on July 16th, 2008, four months after they had started dating, during their second in-person meeting, had broken. Luckily, Mallory had made it herself so she could just make a replica. Finishing off the vlog, he asks the viewers how their days went.
Stephen mentions that he saw Ravioli Boy again today at work.
Ad blocker interference detected!
Wikia is a free-to-use site that makes money from advertising. We have a modified experience for viewers using ad blockers

Wikia is not accessible if you've made further modifications. Remove the custom ad blocker rule(s) and the page will load as expected.