Previous Vlog (Day 1689) | Next Vlog (Day 1691)
Locations
Edit
Tucson, AZ
Stephen's rental car
El Paso, TX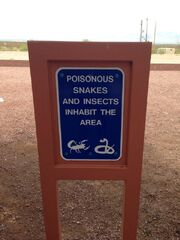 Stephen and Mal have breakfast with Steph and Steve, then begin driving down to El Paso, Texas via New Mexico. On the way, they reach the 1,000 mile counter on their car. While Stephen is at a rest stop, he notes a sign outside the restroom warning of poisonous snakes and insects. That's nice.
Going through New Mexico, Stephen notes that lots of drivers from Texas tend to cut them off on the highway. They also pass by the USA/Mexico border and catch a glimpse of Juárez. They make it to their hotel then grab dinner at Track One, which is basically a restaurant inside several train cars.
The distance from Tucson to El Paso is 314 miles, taking roughly 4.5 hours to travel.
Ad blocker interference detected!
Wikia is a free-to-use site that makes money from advertising. We have a modified experience for viewers using ad blockers

Wikia is not accessible if you've made further modifications. Remove the custom ad blocker rule(s) and the page will load as expected.