Previous Vlog (Day 1302) | Next Vlog (Day 1304)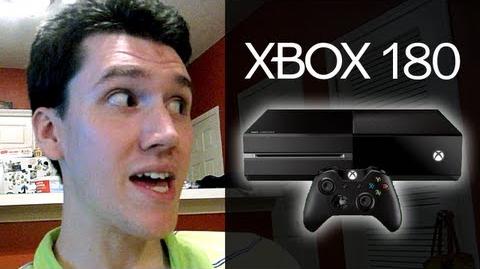 Locations
Edit
Stephen and Mal's apartment
Stephen discusses Microsoft's changes to the Xbox One.  They were planning on implementing a Digital Rights Management (DRM) program, meaning that people would not be able to play used games, and players would have to check in online at least once every day.  Stephen says that this would not have dissuaded him from buying the console, though Microsoft's change of heart doesn't surprise him.  All in all, he's fairly indifferent to the decision, but he was looking forward to being able to install games directly onto the console.
To close, Stephen shows photographs of himself and his father wearing an instrument connected to their brains that is hooked up to a computer.  Stephen doesn't want to "tease" medical issues, but he wants to bring this to the attention of the vlog audience in case the issue arises again in the future. He explains that when he had the computer in 2006, they were trying to assess some severe headaches.
Ad blocker interference detected!
Wikia is a free-to-use site that makes money from advertising. We have a modified experience for viewers using ad blockers

Wikia is not accessible if you've made further modifications. Remove the custom ad blocker rule(s) and the page will load as expected.