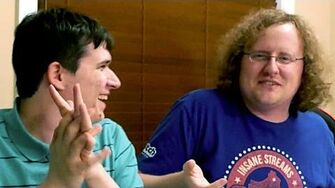 Previous Vlog (Day 2569) | Next Vlog (Day 2571)
The Runaway Guys: Telestrations
Locations
Edit
Stephen records some videos with Emile, Tim and Jon. Next come Emile's presents to Stephen and Mal. Emile gives Mal some paints, a rechargeable battery with a USB port, and some canvases. Emile gets Stephen a dice holder that is custom-engraved with the vlog logo in it.
The gane plays a game of The Runaway Guys: Telestrations, followed by a completely improvised round of Dungeons & Dragons.
After the game, Stephen shows Tim's drawings created during the campaign, and the rest of the group explains their characters. Tim and Jon are leaving tomorrow... Until next time!
Tim recorded some of these events on his vlog as seen here.
Ad blocker interference detected!
Wikia is a free-to-use site that makes money from advertising. We have a modified experience for viewers using ad blockers

Wikia is not accessible if you've made further modifications. Remove the custom ad blocker rule(s) and the page will load as expected.