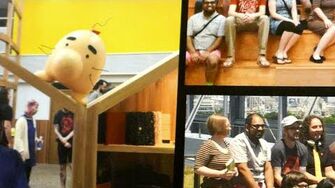 Previous Vlog (Day 2386) | Next Vlog (Day 2388)
Locations
Edit
Stephen and Mal's apartment
Stephen is a T-Mobile customer, and he really likes the company in general. Today, he shows off something new that T-Mobile customers have access to, called "T-Mobile Tuesdays". It's an app that customers can use to redeem things from pizza to movie tickets. It's pretty cool.
Stephen was not sponsored by T-Mobile to create this video.
Ad blocker interference detected!
Wikia is a free-to-use site that makes money from advertising. We have a modified experience for viewers using ad blockers

Wikia is not accessible if you've made further modifications. Remove the custom ad blocker rule(s) and the page will load as expected.